Saving Face With Faith
The name of the Lord is a strong fortress; the godly run to Him and are safe. Proverbs 18:10
What
If

...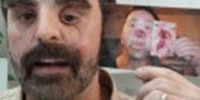 Suddenly, you were faced with the awful decision of having surgery that would leave your face extremely disfigured or dying from a cancer so painful not even the strongest of pain medications would ease your suffering? What if you were forced to wear a mask every day of your life, not to hide your disfigurement, but to filter pollutants from the air? What if you not only had to fight cancer but also the prejudice of being different? Think it can't happen? Think again. On August 21, 2003, Donnie Fritts had surgery to remove his nose, top lip, upper palate, forehead, facial tissue and bone as well as part of his brain due to a rare form of cancer called Ameloblastic Carcinoma. Since that time, Donnie has had more than 40 surgical procedures to restore part of what was lost to him. As you can imagine, this process has been neither painless nor inexpensive. The technicians and doctors are doing difficult and amazing work.
Throughout this entire ordeal, God has sent so many blessings. Sharon and Donnie have a wonderful testimony to share. Their testimony is inspiring to all who hear it and even more so to those who are witness to it. If you would like to have them speak at you church or service group, please click here.
Personal Contact with Donnie and Sharon 207 Hunt Drive Calhoun, GA 30701
Blessings Abundant

Robert Barron, an anaplastologist, is building Donnie's nose. It will be a functioning nose. It will filter pollutants and help Donnie breathe and keep the nasal area moist and clear.
Dr. Michael Singer is rebuilding the roof of Donnie's mouth. This upper palate will help Donnie speak more clearly and will give him the ability to chew and swallow. Read Dr. Singer's own words
This is an ongoing procedure and even as Donnie regains some things, others will always be lost to him. He lives in the constant pain caused by nerve damage and no matter how realistic the prosthetic, it IS a prosthetic. Even so, he and Sharon are so thankful for the wonderful blessings they have received, the people who have touched their lives and especially for the "strong fortress who has kept them safe."
If you would like to donate to the Donnie Fritts Cancer Fund, please send donations to:
DONNIE FRITTS CANCER FUND
BARRETT ROAD CHURCH OF GOD Benevolent Fund
172 Brian St
Calhoun, GA 30701
Contact Eleanor Silvers @ 706-629-5469 or Pastor Norris Sexton @ 706-629-6742